Acupuncture Treatment Bronchitis and COPD Relief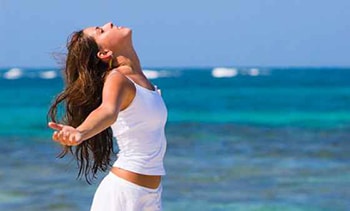 Acupuncture  provides natural treatment for bronchitis and COPD (Chronic Obstructive Pulmonary Disease). Respiratory conditions such as chronic bronchitis, asthma, and emphysema are difficult conditions but acupuncture can help you breathe a whole lot easier.
Acute bronchitis is an inflammation of the lung's airway and occurs shortly after catching a cold. At first you may experience a sore throat, runny nose, and eventually a cough. When it spreads to your lungs and does not improve after several days, you may be experiencing bronchitis.
Bronchitis symptoms include chest pain, a productive cough, shortness of breath, and wheezing. You may be prescribed pharmaceuticals to treat the symptoms. After visiting your doctor and receiving the appropriate medical care, visit your acupuncturist to reduce or eliminate the cough! Acupuncture relieves coughs quickly so you can breathe easier.
Acupuncture Relieves Coughs
For some people coughs can become ongoing and recur year after year. A condition called 'chronic bronchitis' is characterized by a 'cough with sputum production on most days for 3 months of a year for 2 consecutive years (wikipedia). Chronic bronchitis is classified as one of the two types of COPD (Chronic Obstructive Pulmonary Disease).
Emphysema is the second type of COPD and is a more serious condition due to long term lung damage. Acupuncture combined with appropriate medical care can help reduce coughing due to bronchitis, chronic bronchitis, and COPD.
Bronchitis & COPD Research Studies
Acupuncture Research Bronchitis Treatment
Acute bronchitis sufferers received acupuncture treatment during the height of the 'bronchitis season.' 200 participants were involved in the study and the half which received acupuncture experienced greater short and long term relief from their bronchitis symptoms.
Patient Reviews for Bronchitis & COPD
"I was referred to Margaret by a friend and how lucky do I feel that that happened! I had wanted to try alternative medicine for along time but things had not fallen into place until the spring of 2011. I was in my 30's had a lot going on in my life and was sick with pneumonia. I was going to my traditional doctor but when I added the help and expertise of Margaret, I was recovered faster. It was dramatic how I could breathe better after a treatment. Since then she has helped with many other ailments. Her comfort and compassion is beyond description and you can feel it when you are in her waiting room, all her patients are happy to walk in and see her.
I am happy to say that she is now part of my life and my family's life."
"I have been going to Inner Light Wellness Acupuncture for several treatments. My first treatment was for my back pain and I must say my recovery was remarkable, Margaret is a real professional, she knows what she is doing. Her pleasant mannerism makes the visit therapeutic and the healing process quick. Margaret is now working with me treating pulmonary fibrosis and rheumatoid arthritis and the treatments are working. I feel much better."