Foot Pain & Plantar Fasciitis
Foot Pain & Plantar Fasciitis Relief with Acupuncture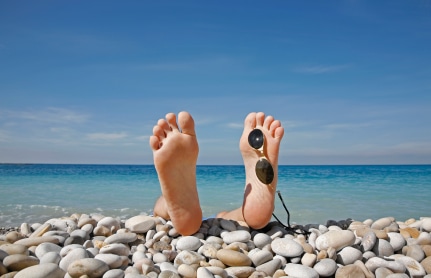 Looking for foot pain relief? You need acupuncture! Acupuncture provides fast, effective relief for foot pain. Foot Pain such as heel pain from Plantar Fasciitis, heel spurs, neuromas, and inflammation are a common occurrence. Foot pain relief can be elusive for some, requiring rest from daily activity. But who has time to put their feet up? Fortunately, there is a solution. My patients get relief from foot pain and plantar fasciitis and you can too!
What causes foot pain?
Plantar fasciitis – painful inflammation on the bottom of the foot, usually the heel.
Bunions – pain and swelling of the first joint of the big toe.
Morton's Neuroma – growth, swelling, or tumor of the nerve tissue with pain deep between the bones of the forefoot.
Arthritis – inflammation of the joints in the bones of the feet causing pain and stiffness.
Heel spurs – calcium deposits that build up over time at the heel area.
Foot Pain & Plantar Fasciitis Research Studies
Acupuncture Effective in Relieving Otherwise Unresponsive Foot Pain
Studies have shown acupuncture to be effective in relieving certain types of foot pain. A study published in the journal Acupuncture in Medicine reported acupuncture to be effective in relieving otherwise unresponsive chronic foot pain. Another study found that stimulation of acupuncture points on the feet could increase blood flow to the foot and lower leg. Many anecdotal reports exist of acupuncturists using a variety of acupuncture techniques to relieve pain associated with the ankle, heel, and ball of the foot.
Acupuncture Relieves Pain and Restores Flexibility
Approximately 10% of all Americans experience plantar fasciitis at some time during their lives. Acupuncture is a successful treatment to relieve pain, restore flexibility, and prevent structural deterioration of the feet. The acupuncture reduces local inflammation and enhances blood circulation in the feet. In addition, acupuncture has a homeostatic effect by balancing the parasympathetic and sympathetic nerve signals in the feet. In this way, the acupuncture sends a signal to the brain to stop inflammation and swelling and to begin the recuperation process.
Patient Reviews for Foot Pain
"My symptoms were heel spurs and plantar fasciitis. I had previously tried physical therapy, stretching, chiropractic, and laser treatment. This was my first time seeing an acupuncturist and the office staff was very helpful and friendly. The practitioner was caring, and my treatment was timely. As for results, my pain was almost completely gone after 3 visits. Now I am currently receiving treatment for pain in the other foot and I feel a lot of relief after just 2 treatments!"
"I had severe back pain and foot numbness for over a year. Margaret Celli's Dr. Tan Acupuncture really helped. I have tried other Acupuncture treatments and this was the best and most effective. I noticed a change immediately. Even while on the table I could feel the pain shrinking down in size. After my second treatment, the foot numbness was already decreasing. This was a great relief! I feel more like a normal person than a person who is living in pain all the time. If you are living in pain, Margaret can help. She is helping me get my life back."
"I have, or actually had, a double Morton's Neuroma in my left foot. I tried just about everything before Acupuncture including arch supports, alcohol injections, corticosteroids injections, wider shoes and primarily wearing sneakers because every other type of shoe would hurt. The burning, stinging and numbness was intermittent and would last sometimes months at a time. The Podiatrist recommended surgery to cut the nerves out. This would "trade the pain for numbness". After about 16 treatments, I can now wear heels again. I can walk around all day without limping before the end of the day. I still have all the nerves that I was born with too!"