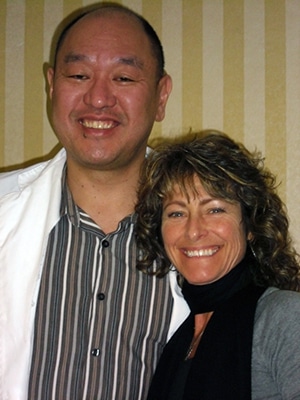 Master Tung Acupuncture
Master Tung Acupuncture is an acupuncture style all its own! Experience immediate pain relief, right on the table, with Master Tung acupuncture.  Using very few needles placed at distant points, Master Tung acupuncture gets results.
Even chronic symptoms such as seasonal allergies, digestive problems, anxiety, and PMS resolve more quickly with just a few needles. Master Tung acupuncture creates excellent clinical results for a wide array of symptoms and conditions.
My Master Tung Training
I have studied Master Tung's clinical method with two teachers: Susan Johnson, L.Ac. and Robert Chu, PhD, L.Ac., QME. Both of my Master Tung teachers received instruction from Dr. Wei-Chieh Young, a direct-line disciple of Master Tung. Lineage acupuncture was the original acupuncture prior to systematization of various acupuncture styles.
Dr. Chu has extensively researched Master Tung (Master Tong) acupuncture. As the founder of ITARA (International Tung's Acupuncture Research Association), Dr. Chu is dedicated to preserving and imparting the complete Master Tung lineage transmission. Dr. Chu has developed effective clinical protocols utilizing Master Tung's magic points which he teaches to acupuncturists and doctors in the United States and abroad.

About Master Tung
One of my Master Tung teachers, Robert Chu has this to say about Master Tung and Master Tung (Master Tong).
"Master Tung arrived in Taiwan after the Communists took over in China in 1949 along with Chiang Kai-shek's Nationalist party and began a successful practice in Taipei, Taiwan. He was an Acupuncturist in Taiwan for 26 years. As the personal acupuncturist to Taiwan President Chang Kai Shek, his reputation was so great that he was asked to visit Cambodia between 1971 and 1974 to treat Cambodian President Long Nuo, who suffered from hemiplegia due to a stroke.
Master Tung's Acupuncture is truly a living treasure and storehouse of Chinese Medicine, untouched by modern TCM, and a glimpse into the family systems of Chinese Medicine as taught in previous generations. It is itself a conglomerate of classical acupuncture and pricking methods, flexibly applied, and proven clinically practical, often with quick and dramatic results.
A full range of problems are treated, including allergies, anxiety, arthritis, asthma, back pain and sciatica, Bell's Palsy, bronchitis, Carpal Tunnel Syndrome, high blood pressure, colitis, common cold and flu, constipation, diarrhea, ear pain and ringing, eczema and other skin problems, edema, frozen shoulder, GERD, headaches, IBS, impotence, insomnia, laryngitis, menstrual problems, menopause, nausea and vomiting, numbness and neuropathy, pain of all types, PMS, prostate problems, rheumatism, stress, stroke, tennis elbow, TMJ, and Trigeminal Neuralgia with just a few needles. It is almost inconceivable as to the efficacy of this form of acupuncture. In my own daily practice, I am still amazed at the immediate results I see with this system of acupuncture.
As students and practitioners of Master Tung's Acupuncture, our practice is to benefit others in a practical, simple, direct, economical manner and it is hoped that the reader can seek out a Master Tung Acupuncture practitioner to experience these amazing points – the same points I use daily in my clinic with amazing results! Robert Chu, PhD, L.Ac.