Relieve Your Menopause Symptoms with Acupuncture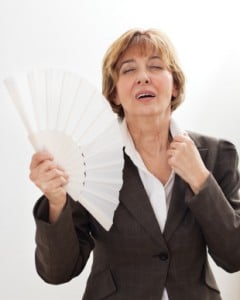 Good news ladies!  Hot flashes, mood swings, and other unpleasant menopausal symptoms such as vaginal dryness, night sweats, and insomnia are menopause symptoms that respond quickly to acupuncture! After turning 46, I personally experienced menopause in all its glory, especially the hot flashes and irritability. However, I was fortunate to be receiving acupuncture and my menopausal symptoms were extremely short lived. Thanks to acupuncture!
Hormonal changes later in life result in some of the most unpleasant symptoms of menopause – the most difficult of these? Hot flashes. Am I right ladies? Did you know that acupuncture has been treating women's health issues for thousands of years?
Menopausal Symptoms Aren't 'Normal'
Acupuncture practitioners understand that menopause symptoms are an imbalance in your body's meridian system. Symptoms of menopause are not a 'normal' rite of passage. We understand menopause symptoms to be an energy imbalance that causes your body to experience a disruption in energy flow and a disordered response to what should be a normal part of the aging process.
Who Gets Menopausal Symptoms?
In my practice, the usual suspects for the worst symptoms of menopause are women who are overworked, overstressed, and under rested. Women who have been in the workforce while raising children seem especially prone to menopausal and peri-menopausal symptoms. Acupuncturists address the energy disruption that occurs when the body is overworked with little time to recuperate. We call this an imbalance of 'yin' and 'yang'.
The Battle of Yin and Yang
When we burn the candle at both ends – always doing, never stopping or relaxing – we are using 'yang' energy. Yang is the fiery energy of activity. Too much activity causes the body to use up its vital fluid-like energy called 'yin'. Yin is the cooling aspect of our bodies that keeps the fiery energy of yang in check. When yin gets depleted it no longer controls yang. Heated yang flares up causing 'fire' symptoms. The heat that is generated manifests as hot flashes, night sweats, irritability, insomnia, and dryness.
Acupuncture – Alternative Treatment To Hormone Replacement Therapy (HRT)
Western medicine offers hormone replacement therapy as treatment for menopausal symptoms. But these treatments are not without risk. According to Web MD, HRT increased risk for heart disease, stroke, blood clots, and breast cancer. Bioidentical hormones potentially carry the same risks.
Why not try acupuncture? I have a high success rate with women in menopause and peri-menopause. Besides reducing hot flashes, my patients report better sleep, improved mood, and more energy. Acupuncture is proven safe and effective for menopausal symptom relief!
Hot Flash Success Story
Menopause Relief Research Studies
Acupuncture Reduces Hot Flashes and Mood Swings!
In a 2011 study of 53 postmenopausal women, acupuncture was demonstrated to reduce the severity of hot flashes, mood swings, and vaginal dryness in menopause. The "women who received acupuncture had significantly lower scores on the scale of menopausal symptoms after 10 weeks."
Patient Reviews for Menopause
"For the past 8 years I have been challenged with many hot flashes on a daily basis. I bought a Groupon to Inner Light Wellness with little expectations. Upon entering the office I was extremely impressed with both Margaret and Brittany. Both handle the client in a professional manner while dealing with the client's personal issues. After eight treatments Margaret and her work have eliminated the hot flashes. I also have been dealing with extreme pain in my feet. The pain has gone away. I finally can go for a walk and not have to be faced with pain. Previously I have tried many holistic practices to deal with both the hot flashes and feet pain. The needles were not a problem at all. Most of the time I did not feel them in my body. I was so relaxed during the treatments that I would fall asleep. I don't usually write reviews because I sometimes believe they are biased. Margaret and her gifts are truly healing and life changing. I have a freedom in my life that I did not have before."
"Life isn't worth living unless the quality is top notch. So when I started to see signs of aging, I needed to do something. I wanted to keep my energy and enthusiasm as long as possible. I started researching longevity practices online and found that Chinese Medicine and Acupuncture have used longevity treatments that for thousands of years. Since meeting Margaret, my life keeps on getting better. What I thought was "normal signs of aging" was really due to chi (energy) stagnation. Margaret taught me how to eat well and take care of myself better. I look forward to my weekly Acupuncture appointment because when I get up off Margaret's table I feel better every time."