Neck Pain Relief With Acupuncture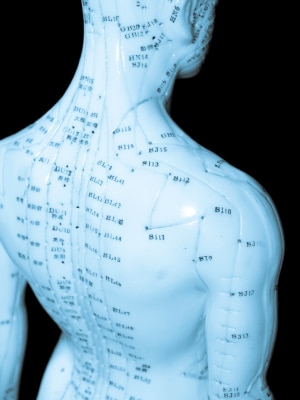 Treat neck pain with acupuncture for relief from all types of neck pain. Neck pain is, well, a pain in the neck! Neck pain is often due to poor posture and muscle strain due to prolonged sitting at the computer. Using your muscles during sporting activities or heavy work loads causes neck strain leading to pain. Neck pain that is due to spinal issues require a medical diagnosis to ensure there is no underlying disc issue that requires intervention. Neck pain due to poor posture or strain from exertion is easily treated with acupuncture.
What if you've been diagnosed with some of these common conditions:
Arthritis
Stenosis
Bulging discs
Whiplash
Can acupuncture help in these cases? The answer is, yes, most often acupuncture can help either eliminate or greatly reduce the pain associated with these medical conditions. Serious injury requires medical intervention. Acupuncture can be an adjunct to western therapies such as physical therapy, surgical repair, and reduce the need for anti-inflammatory medication or pain killers.
Neck Pain Research Studies
Acupuncture More Effective than Massage
The author of one study, Dominik Irnich, MD, tells WebMD that, "acupuncture is widespread in the world. Western medicine is wonderful and successful, but in many, many chronic conditions … there is a lack of success, and Eastern medicine methods may be the right choice. … [Our] study shows that acupuncture is more effective than one of the most customary treatments for chronic neck pain [that is, massage]." Irnich is an anesthesiologist specializing in pain therapy at the University of Munich and the German Medical Acupuncture Association.
Acupuncture Relieves Whiplash
Studies have shown acupuncture to be effective in relieving certain types of neck pain, particularly those caused by whiplash. Some studies suggest acupuncture can treat degenerative neck disorders such as ankylosing spondylosis and cervical spondylosis; in many cases, acupuncture has worked for patients whose conditions could not be solved using conventional approaches.
Patient Reviews for Neck Pain
"Sitting in an office chair all day gave me a constant tight neck. For years I dealt with it. However once tension headaches, migraines, and neck pain became a daily event, I needed to seek help. I didn't want to be on painkillers for the rest of my life, so I decided to try Acupuncture after continually reading about the great results in men's health magazines.
The praise was true – acupuncture worked. During my first session with Margaret, my neck pain disappeared. It did come back in a few days, but after a few more treatments, the neck pain did not return between treatments. I decided to keep seeing Margaret on a regular basis for my other health problems. To this day my neck pain, migraines, and tension headaches are a distant memory. Thank you Margaret!"
"
"As a mid-40s single parent, both stress and biology had caught up with me. I had developed chronic low grade pain in the corner of my neck, tops of my shoulders, and in the middle of my back. Normally not affected by my female cycle, I was finding myself short-fused and red-faced, literally. Margaret had suggested an herbal formula for me, which did mellow my mood without any side effects, but my physical symptoms persisted. Desperately tired of being tense and weary I decided to go for it – Acupuncture.
Margaret is very skilled. She knew that with my trust in her already, I could put up with my fear of needles. Margaret is very good at talking you through the needling. She is accurate and quick. Breathing gently and lying relaxed and still helps. The short discomfort is so worth the lasting relief. The muscle knots and inflammation in my back, shoulders and neck eased during the treatment. And over the next 24 hours, the pain subsided until I had forgotten about these body parts that had been nagging me for years. The red left my face so I no longer look always sunburned. (Margaret explained that excess heat had been released.) Even my 40-something waning eyesight has come back into focus. I feel calmer, clearer and have more energy. That stressed lady is leaving and the me who I know I am is coming back! Why did I put up with the pain and weariness for so long? How could I just accept that fate? Now I truly look forward to my next acupuncture appointments. Don't wait as long as I did."